Administrator
Staff member
Hi all,
For years we have been recommending palladium as a much better alternative to white gold for rings and jewelry, and one that was rarer than platinum (15x rarer to be exact!) but ironically, cheaper.
Those days of palladium being a relative bargain are now officially over as palladium has gone up and up in price the past six months (50% increase) and as of today, is now nearly equivalent to platinum for jewelry use, and more expensive than platinum on a per oz basis.
For reference, here's the pricing changes on spot metal (not exactly the same for jewelry, b/c you have to blend in alloys like ruthenium) but gives an idea of the trends happening):
Platinum = 818/oz (about the same for August 2018)
Palladium = 1347.40/oz (was $900/oz in August, or 50% increase).
For jewelry, platinum weighs 1.75x as much... so to fill a mold requires more +75% more platinum by weight (same volume, but nearly double the weight).
Thus basically platinum and palladium are now at nearly equal pricing (vs palladium being much lower for many years!)
Platinum = $818 * 1.75 = $1431
Palladium = $1347
Anyway, if you have purchased palladium jewelry over the past few years, it's just gotten a lot more valuable!
Also, with platinum back in the mix, definitely want to point out that all our Timeless platinum rings are done with High Pressure treatment after casting...here's why:
Normal cast platinum, 50x: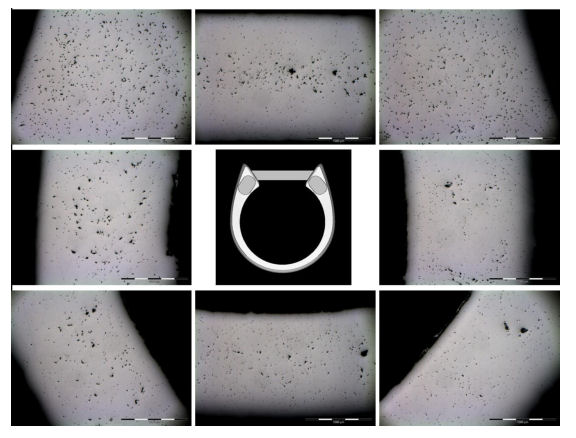 Platinum after High Pressure Enhancement - done for all our BTD Timeless rings, such as the best selling
Regal Tiffany style ring
: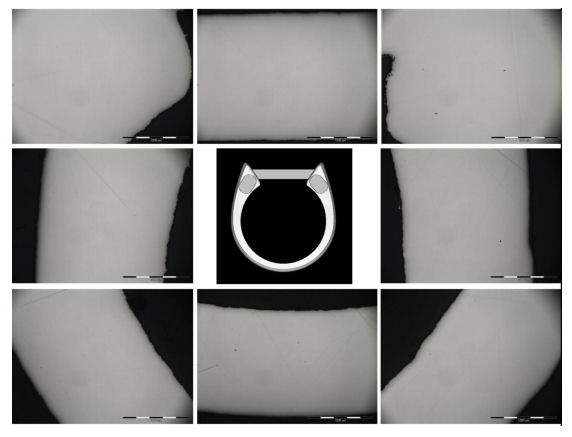 High Pressure Enhancement for BTD Timeless rings
Best regards,
Less