Wink and I just returned from the JCK Las Vegas 2014 trade show. After working for him for over nine and a half years, we finally met for the first time! This picture was from the dinner we had the first night: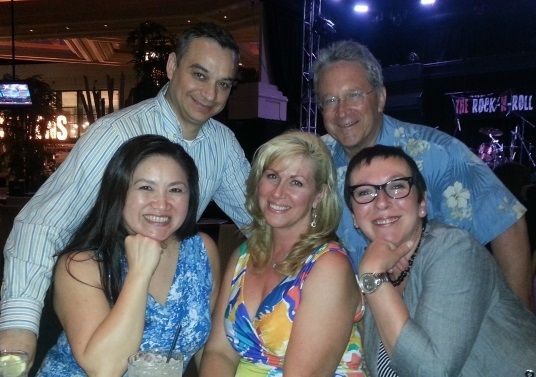 (clockwise: Andre from Pricescope, Wink Jones, Lieve Peters from Crafted By Infinity, me, Devon from Pricescope)
Wink and I...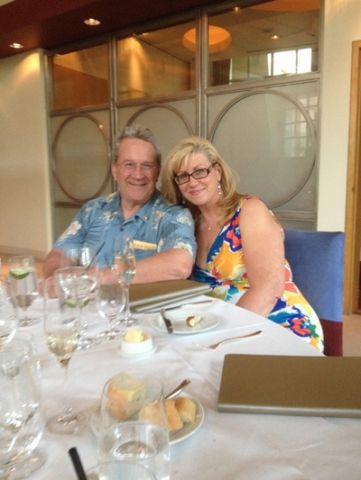 Doesn't he have such a wonderfully warm smile?
Gary Holloway is from Australia. I could listen to that man talk for hours...what an accent! Here we are goofing around in Mandalay Bay before dinner. That gorgeous necklace is not mine, but another colleague's. The jewels do get passed around there for all to see, and that was such a wonderful part of the experience.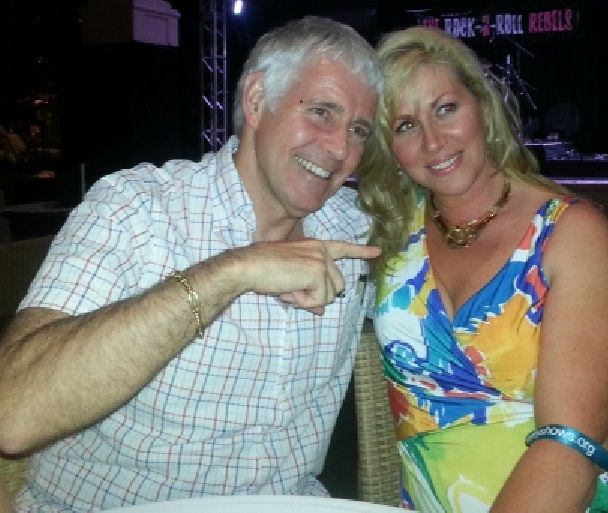 Speaking of jewelry, I got to try on this incredible 5+ carat fancy yellow pear cut diamond pendant.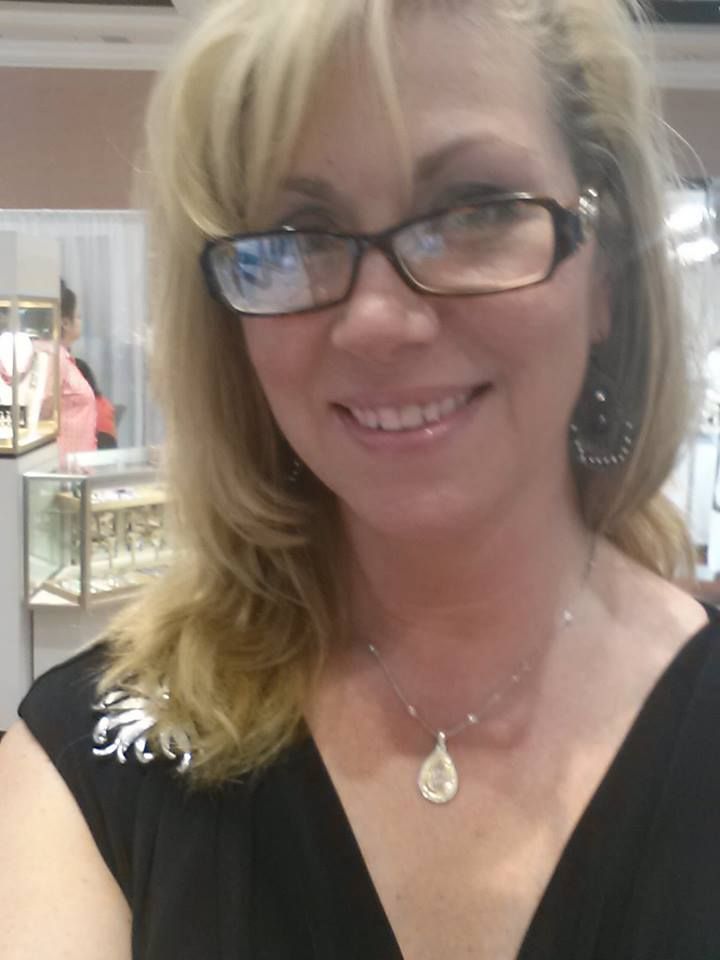 As impressive as that center diamond is, what really thrilled me was the workmanship on the setting itself. The milgrain is so delicate and fine that it was hard to see it until I blew up the picture on my phone. I'm always on the hunt for new benches to use for our clients, and the company that made that necklace does indeed work with jewelers like us.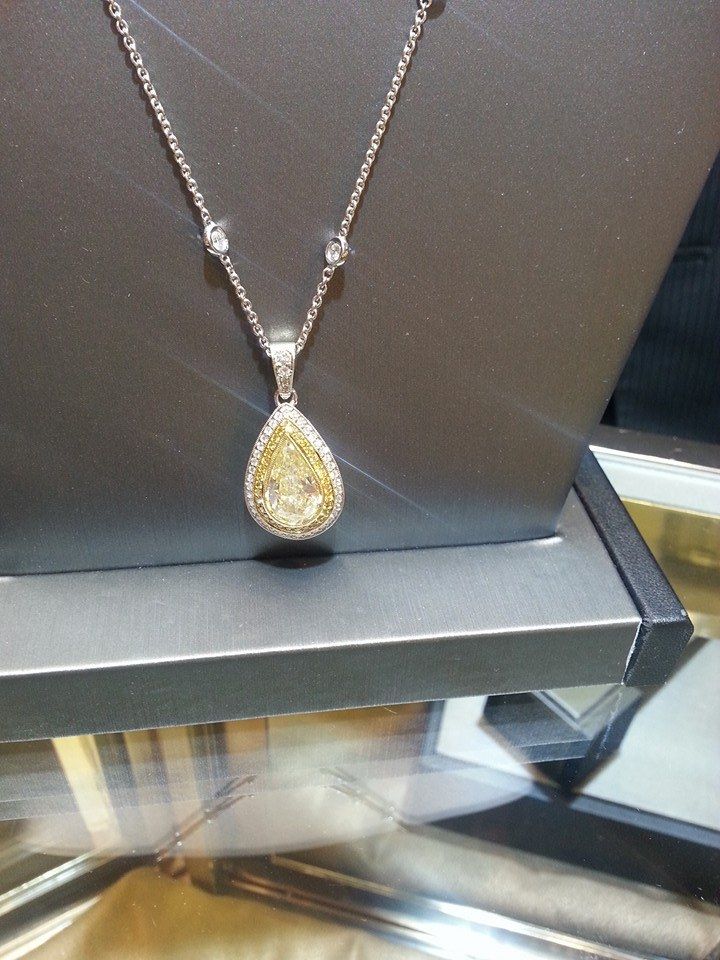 The trade show itself is so large that you could spend an entire week there, and still not see even half of the goods available there.
Not only were there tons of things to see, but phenomenal education sessions that we got to attend. The best was with Peter Yantzer, who finally helped me make sense of the ASET images and what the colors mean. Here is Wink with Mr. Yantzer...
It was so amazing to have the opportunity to sit down with giants in the industry that are my heroes, but especially Wink. This is us on the last day we walked the trade show. My feet were so swollen, blistered and cracked, and I didn't get more than 3 hours of sleep at night, but I still had a smile on my face!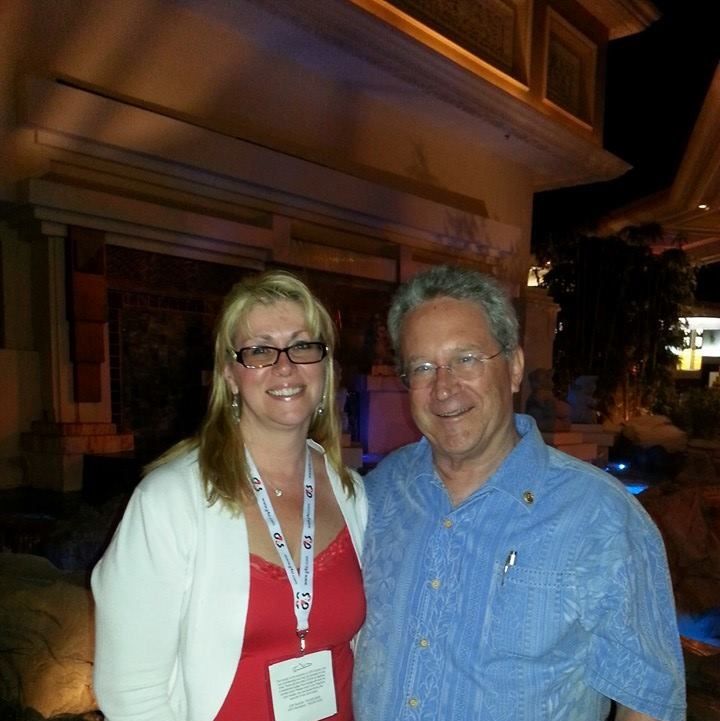 Now, to the good parts for our clients. I can't load the pictures of it right now because my daughter has my cellphone, but I took some pictures of a gorgeous new solitaire design one of our existing manufactures came out with for cushions, ovals, and emerald cuts. The shank is delicate but not too delicate, it has double prongs, a little scrollwork in the gallery, but it's solid, and allows a band to sit flush with it, even with a larger stone! That is a piece I'll be adding to the lineup.
Now, the big news for all the emerald cut lovers. I stopped by the C&C booth and took a look at their Forever Brilliant stones. They will soon be releasing not only a H&A cut round, but a true emerald cut which I got to see. It's stunning. That will allow us to offer our clients a moissanite choice in an emerald cut. I already have one client who is waiting to be able to order a 10x8, so as soon as it's released, I'll have Wink take pictures and a video.
What an amazing trip it was. I'm so glad I finally got the opportunity to spend time with Wink, as well as my heroes of the industry. Wink is an amazing person, the best boss I've ever had, and a dear friend.
Last edited by a moderator: